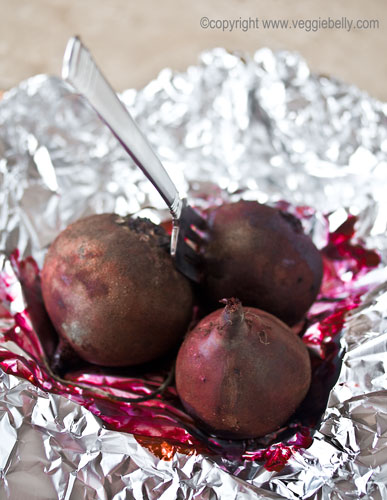 My five year old son loves beets. Not because they are sweet, earthy and wonderful, but because of what they do. "They make your poop PURPLE!" he delightfully announced to a dinner guest, for whom I had cooked beets for. Yes, enough beets with make your routine pit stop shocking more colorful, but so will enough Booberry Cruch cereal; but I would still go with beets.
Beets are one of those foods I was nervous about as a child. The color is down right assertive, but the taste is not. It has a mellow sweetness tempered with the depth of something that has slowly matured in the ground. While I love them cut into long ribbons raw in a salad, and my mother loves them pickled, I think that roasting beets brings out their essence best of all. It is also one of the simplest preparations for them. You will laugh at my recipe. It hardly need to be spelled out and once you try it the first time and say "ha, I can do that," you won't need to look up the recipe next time you want to cook them.
Once roasted I love beets tossed with some vinegar or a vinaigrette and then in a salad with spinach or arugula, or on top of sauteed beet greens (yes, you can eat those too) toped with blue or feta cheese and toasted walnuts or almonds. Beets also pair beautifully with apples and mint. You can roast many and keep them in the fridge for a few days and then slip them out of their skins as needed. Really easy stuff.
Now while our family are avowed fans of the deep magenta variety, you can also try something less shocking and get the red and white striped or golden ones. The unmatched flavor will still be there, but be warned. My son would tell you without the color, you are missing the best part. But then again, that is coming from a five year old. Whatever works.
Roasted Beets
1 bunch of beets
olive oil
aluminum foil
Heat the oven to 400 degrees. Remove the tops from the beets and reserve for another use. Gently clean the beats and then lay out on the foil. Toss with olive oil and tightly seal the beets into a packet out of the foil. (Or just wad it, the beets don't care. Just be sure to seal it.) If using large beets wrap them individually, if using smaller ones put 3-4 in a packet. Place on a baking sheet or dish and bake for 30-40 minutes until tender. Then do nothing. Take them out of the oven and allow them to cool in the packets for 10-20 minutes (or however long you care to wait- they could be put into the fridge at this point). When they are cool enough to handle take a rag or paper towel and rub the beet to gently slip of the skins. Done. It is that easy. Slice or quarter how ever you wish and serve with some vinegar or vinaigrette and season to taste.
Do you like beets too?